This year's eight-horse field for the 2022 Belmont Stakes came up pretty soft. Just two runners in this year's "Test of the Champion" have won a Grade 1 race — Kentucky Derby-winning massive long shot Rich Strike (7-2) and the fine 3-year-old filly, Nest (8-1).
But it's Peter Pan Stakes winner We the People (2-1) who is the morning line favorite, with Wood Memorial winner and fifth place Kentucky Derby finisher Mo Donegal (5-2) a top challenger who could go to post as the favorite.
Nest is a win challenger offering top value at 8-1 morning line odds, and her trainer, three-time Belmont winner Todd Pletcher, placed her confidently in this field.
"We've seen [that] very good fillies can compete with the best colts, and that's what we're hoping for with her," he said.
Nest aiming to defy the odds
Nest is just the 24th filly to run in the Belmont Stakes. She will try to become the fourth filly to win the Triple Crown race in Belmont's rich history. She's the first to try since 2013. Trainer Todd Pletcher conditions both Nest (8-1) and our choice as the horse to beat, Mo Donegal (5-2).
Nest offers better horse racing value and has the pedigree to go the 1 1/2 mile distance. She's a daughter of the great Curlin, who won seven Grade 1 races, including the Breeders' Cup Classic, and finished second in the 2007 Belmont Stakes. That classic stretch duel in the 2007 Belmont was won by a head by Rags to Riches, also trained by Todd Pletcher. It's worth watching, and perhaps we'll get another classic finish between the Pletcher duo Mo Donegal and Nest in this year's Belmont Stakes.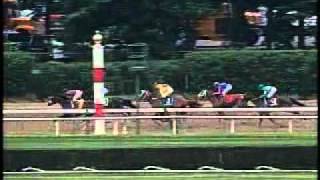 Nest is also out of a dam by Belmont Stakes winner and 1992 Horse of the Year A.P. Indy. Top NYRA circuit rider Jose Ortiz rides Nest. His brother, Irad Ortiz Jr., has been her regular rider but has decided to ride Mo Donegal instead. That could be a clue about who Irad feels has the better chance to win the "Test of the Champion." However, we should not discount Nest's talent, ability, and potential place in Belmont history.
"It's something you see occasionally," trainer Todd Pletcher said about racing a filly in the Belmont Stakes. "It's not something you see often, but it's always exciting when you do. It's an extra challenge. In Nest's case, she's a filly that has a lot of pedigree and a lot of stamina in her pedigree for a race like this. That's a huge part of it."
Why Nest is a Belmont Stakes top win contender
Supporting Nest as a top win contender, along with Mo Donegal, is Horse Racing Nation's Super Screener. The Super Screener provides detailed horse profiles using BRIS speed figures, energy distribution, and historical data. This aids in determining horses of interest, offering value and potential long shots to include, plus horses to toss.
The HorseRacingNation Super Screener lands on Nest as the top choice in this year's Belmont Stakes. She missed just one Super Screener criterion, the lack of balance in how she distributes her energy — though in the Oaks, she came much closer to that more desired balanced profile.
Nest easily meets all remaining Super Screener screening criteria, especially the all-important stamina criteria. Although she is making her third start since February, she has improved in her last three starts. She is bred to run all day long, so added ground will be welcomed. She was much closer to a brutally fast pace in the Oaks but showed stamina after laying out double-digit BRIS Pace figures. Nest was able to finish with an impressive BRIS Late Pace figure of 90. Form cycle analysis indicates that she'll move forward again here.
Secret Oath finished a troubled trip fourth in the Preakness but could have easily finished second with a clean trip. That bodes well for this filly after she finished second to Secret Oath in the Oaks. She'll sit a perfect off-the-pace trip here with just four lengths to make up on the pace leader at the turn for home. Nest offers great value.